Pitzer-Debye-Hückel electrostatic correction¶
Systems with charged species often exhibit non-ideal behavior – even at low concentrations of ionic components. For this reason, it is often beneficial to include long range electrostatic corrections in the calculation of the activity coefficient. Several models for long range electrostatic energy exist, but one of the most successful and generalizable approaches is the Pitzer-Debye-Hückel (PDH) model 1.
This tutorial sets up a calculation for NaCl in water and compares (molality-based) mean ionic activity coefficients calculated by COSMO-RS to experiment. This tutorial will also perform the same calculation while not considering explicit water solvation (done with the multispecies tools of the ions and additionally while not using the PDH correction.
Turning the PDH correction on/off¶
By default the PDH correction is not used. It can be turned on (or back off) in the Parameters window. If the PDH correction is turned on, it will only have an effect if there are charged species detected in the system. The following steps more exactly describe how to adjust this parameter.
Method → Parameters
In the section Correction terms, (un)tick Use Pitzer-Debye-Hückel electrostatic correction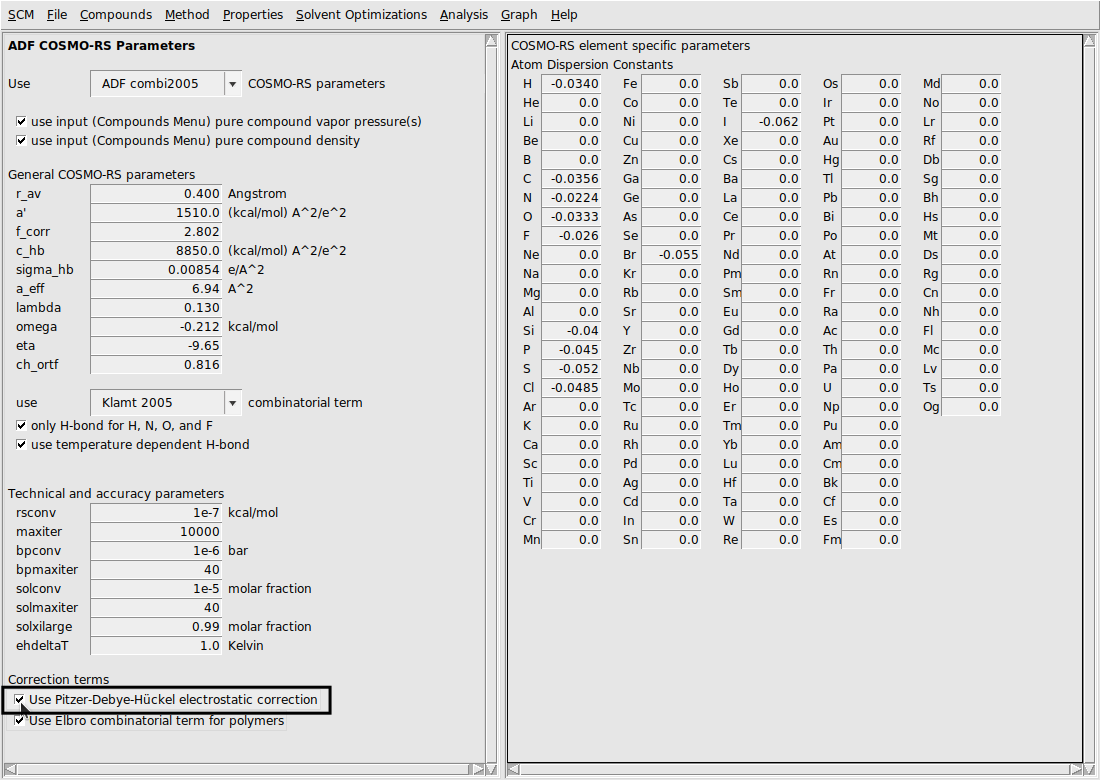 Example: NaCl in Water¶
In this example, we will calculate mean ionic activity coefficients for a very common system: NaCl in water. Though it is possible to calculate the properties of this system with respect to NaCl as a single compound, it is more convenient for calculating mean ionic activity coefficients if we consider Na+ and Cl- as separate compounds. We will perform the calculations using the following 3 approaches:
Using only the bare (unhydrated) ions and no PDH correction

Using explicitly hydrated ions and no PDH correction

Using explicitly hydrated ions and the PDH correction
The user is invited to try to generate the structures necessary for this tutorial, but it is recommended to download the .coskf files in the link above. Using these .coskf files is more convenient and ensures consistency with the tutorial.