ACE Reaction Network¶
The Amsterdam Modeling Suite has several tools available to create reactions networks:
Out of these, ACE reaction is the fastest tool, and can be used for quick initial guesses of a network.
ACE Reaction generates a reaction network from user-specified reactants and products. It creates initial guesses for intermediates based only on molecular graphs, and then confirms the validity of the intermediates using geometry optimization.
In this tutorial you will learn to use ACE reaction to generate a network, and interpret the results.
We will use the following addition reaction as our example.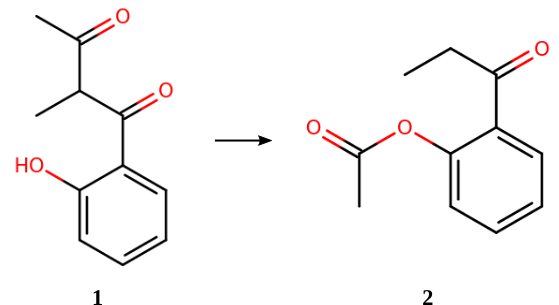 ACE reaction needs a selection of active atoms as input, and the set should never be larger than 11 atoms. The red atoms in the above figure are the atoms we expect to be involved in bond-breaking or forming.
We can use our chemical intuition to predict a reaction mechanism, and then see if ACE reaction indeed suggests this reaction as a likely option.
The expected reaction mechanism would involve
deprotonation of the diketone (the negative charge will be stabilized by conjugation with the two oxygen atoms), followed by

electrophilic addition to the protonated cyclohexenone molecule, and

finalized by a proton jump to recreate the ketone from the enol.