H-NMR spectrum with spin-spin coupling¶
Learn how to use the GUI to setup the calculation of NMR chemical shifts and nuclear spin-spin coupling constants (NSSCCs). Use the ADFspectra module to inspect the results and compare the simulated and experimental NMR spectra directly.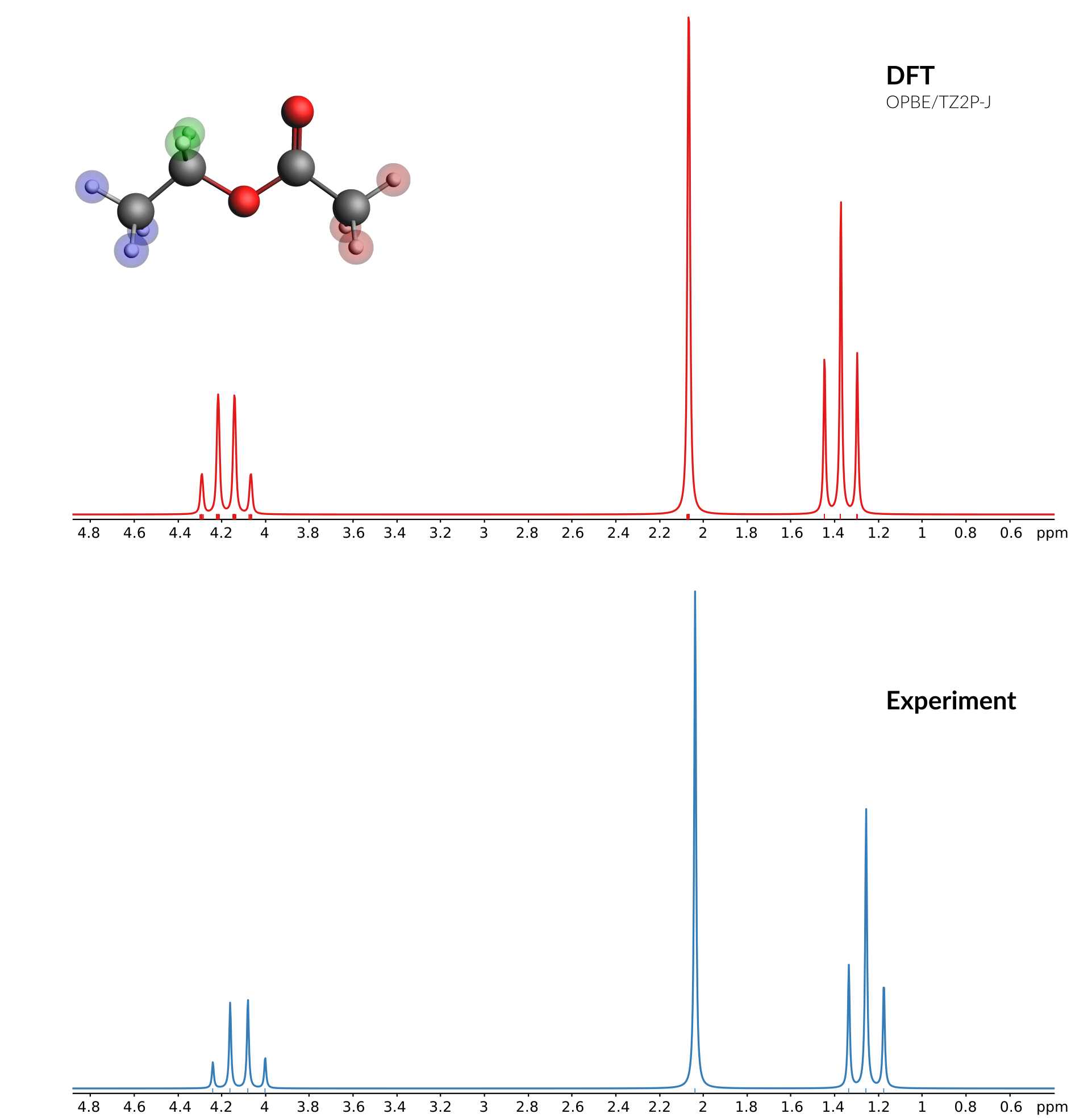 Step 1: Start ADFinput¶
The tutorial is best run in a separate folder labelled Tutorials
Start ADFjobs

Click on the folder icon labelled

Tutorials

Start ADFinput using the SCM menu
Step 2: Create the molecule¶
You can download a pre-optimized ethyl acetate structure from here:
Click

here

to download the .xyz file

Ethyl_acetate.xyz

Import the coordinates in ADFinput:

File → Import Coordinates
The above structure was optimized with the following settings:
Hybrid:PBE0
Basis: TZP
Frozen core: None
Numerical Quality: Good
In case you want to run the geometry optimization yourself, take a look at the GUI tutorial on geometry optimizations.
Step 3: Setting up the NMR calculation¶
Select the following settings from within ADFinput
XC functional: GGA → OPBE

Basis set: J → TZ2P-J

Frozen core: None

Numerical quality: Good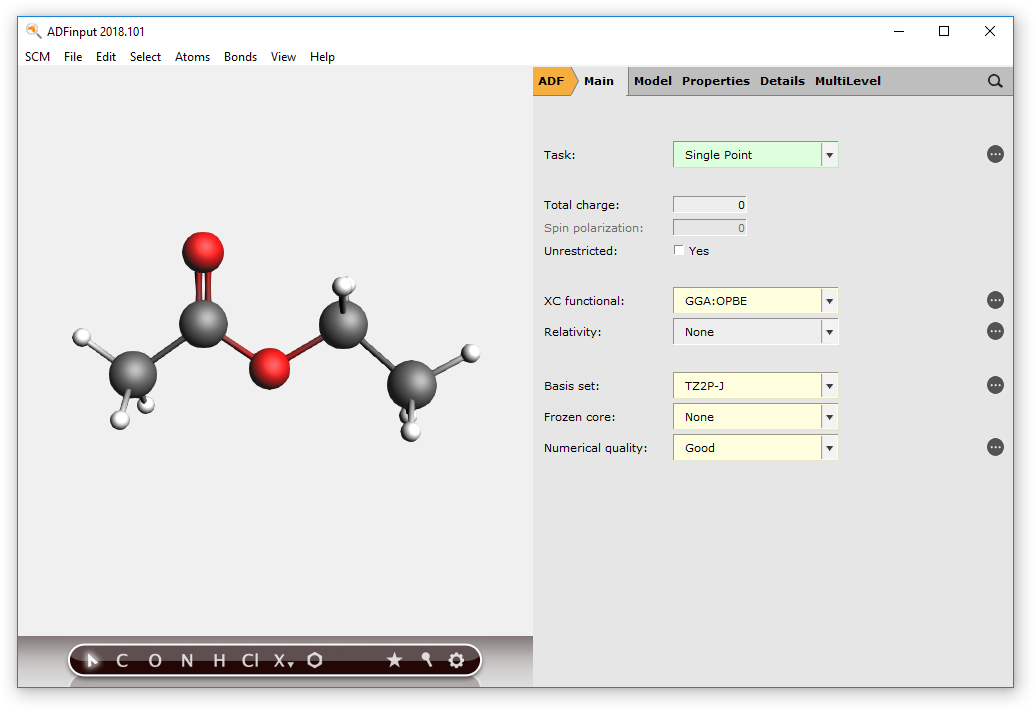 Note
The basis sets in J, including TZ2P-J, have been especially designed for ESR hyperfine and NMR spin-spin coupling calculations.
Next, instruct the program to calculate the shieldings for all hydrogen atoms.
Click Properties menu

Select NMR

Click checkbox H atoms next to shielding for all

Click checkbox H atoms next to Perturbing / responding all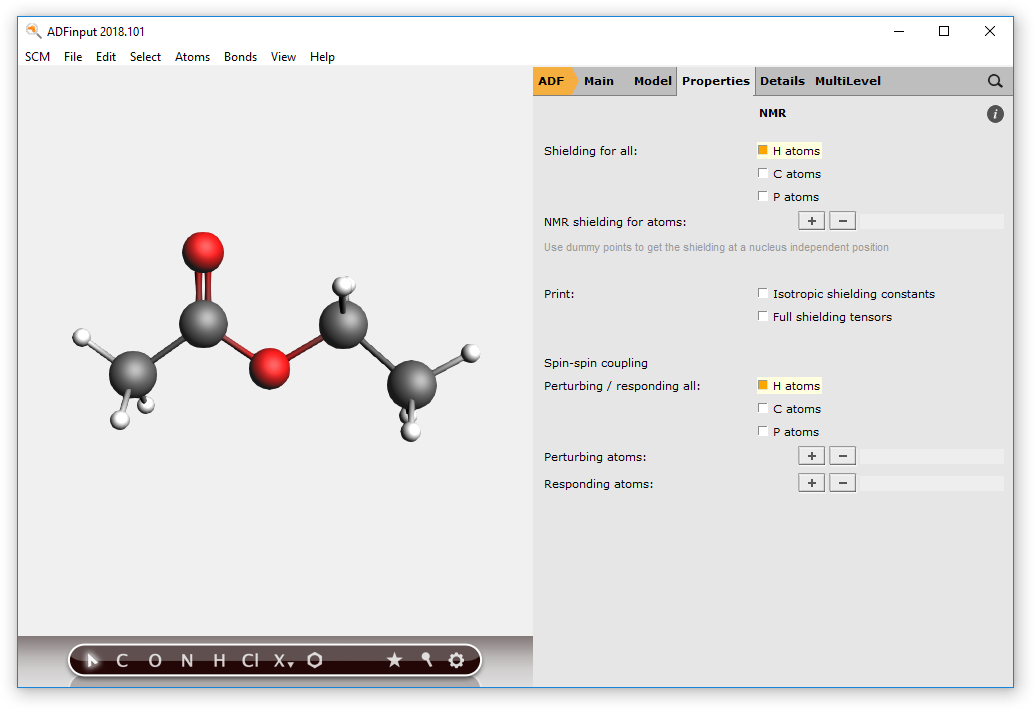 Note
In some cases, e.g. when dealing with alcohol groups, you might want to exclude atoms from the list of perturbing and responding atoms. To do so, just select the atoms you want to calculate the splittings for, and use the + button to add to the list of perturbing and responding atoms manually.
You have now finished the setup of the calculation and are ready to run it. It should take around 10 minutes to finish, but that may vary depending on your hardware.
Select File → Run

Click OK to save over the previous version

Click Yes when ADFjobs warns that results are already present

Wait for the calculation to finish
Step 4: Results of your calculations¶